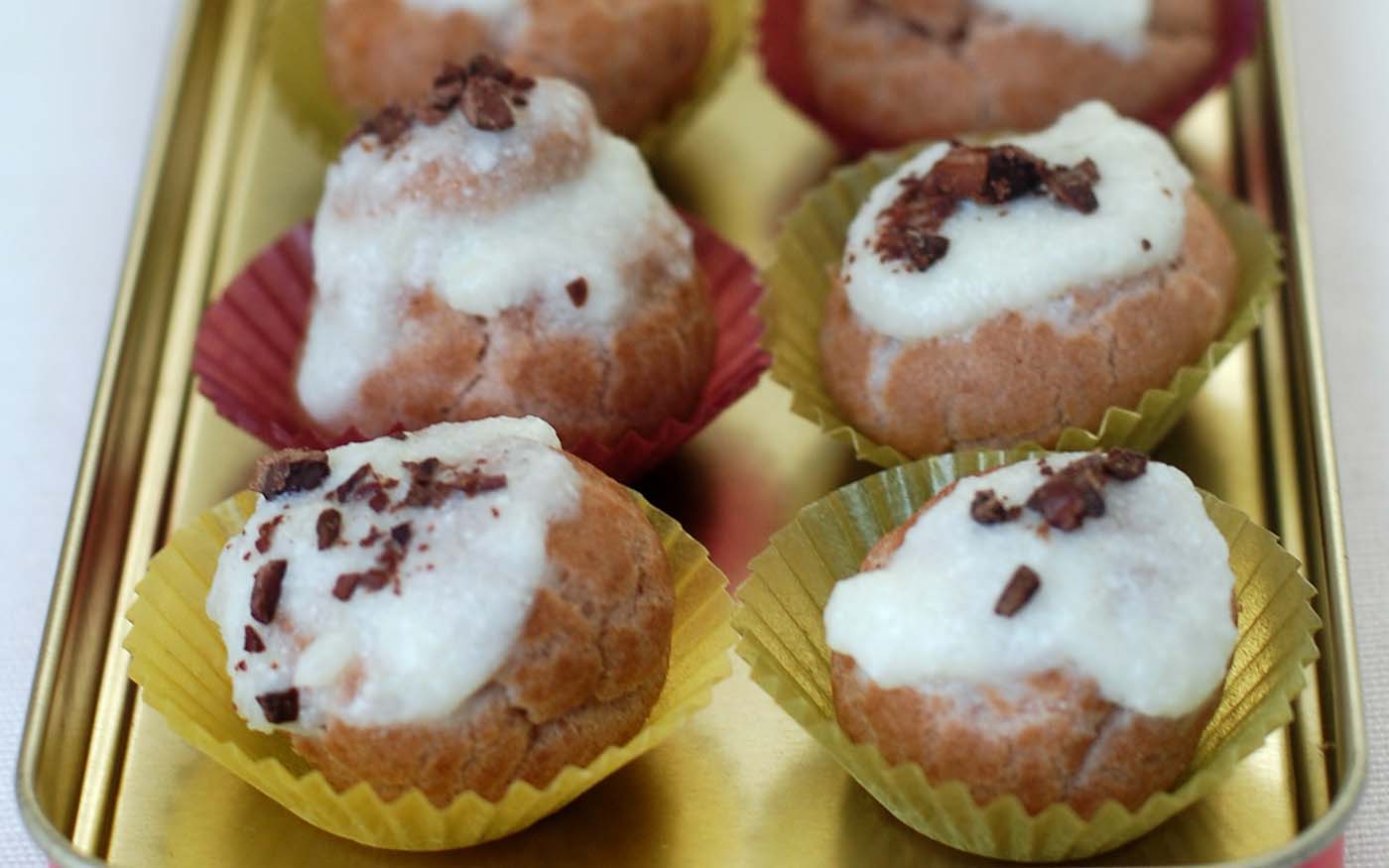 Chocolate puffs with double Pecorino Toscano PDO cream
Ingredients
For about 40 small puffs:
1/3 cup (75 g) water,
1/3 cup (75 g) butter,
1 pinch of salt,
¾ cup (70 g) unbleached flour,
1 tablespoon (6 g cocoa powder),
2 medium eggs.
For the filling (12/15 puffs):
1/3 cup (100 ml) fresh cream,
grated Pecorino Toscano PDO to taste,
1/3 cup (40 g) diced unaged Tuscan pecorino,
milk to taste,
cocoa beans ground to a powder with a mortar (cocoa powder)
Instructions
A few hours before (or even the night before) put the pecorino cheese cut into cubes in a saucepan and cover with milk; put aside so that it softens in the milk.
First make the puffs. Put the water, butter cut into pieces and a pinch of salt in a saucepan and bring to a boil. Meanwhile sift the flour and cocoa.
When the water boils, pour the flour in all at once and stir vigorously with a wooden spoon for a few minutes so that the flour doesn't stick to the edges of the saucepan.
Put in a bowl and stir frequently until the mixture gets to room temperature. Then add the first egg, stir until absorbed, then do the same with the remaining egg. Put the mixture into a pastry bag with a not-too-small plain nozzle (7-9 mm).
Pre-heat the oven to 375° F (200 ° C). Shape your puffs (I recommend making them small since they get bigger as they cook) on a baking pan (or on a lightly buttered baking sheet; I wouldn't recommend using wax paper, because it creates an air pocket under the puff) holding the pastry bag nozzle nearly horizontal and touching the baking tray, so as to create a nice spherical shape. Press down on the tip of cupcakes to give it a nice round shape with a damp finger.
Put in the oven for 15 minutes, then slightly open the oven door and keep it slightly open with a wooden spoon (or something else) to keep the oven door from closing and cook for another 5 minutes. Remove from the oven and place on wire rack to cool.
In the meantime put the cream into a bowl, add the grated pecorino (to taste) and whisk until not too firm. Put the cream in a pastry bag with small nozzle (You can use a  star or a plain one. It doesn't matter) and then put in the refrigerator.
Now let's make fondue. Pour milk that covered most of the cheese in a cup (may serve), and let melt over low heat, adding more milk if necessary: consistency should not be too compact. Let cool.
Fill your puffs with pecorino cream by making a hole in the bottom of each puff with the pastry bag nozzle and then squeeze the filling inside. "Frost" the tops of your puffs with a little cheese fondue and finish off with a sprinkling of cocoa powder on top (I use a small mortar to grind the cocoa beans into cocoa powder).
Put each puff in paper cups and then arrange them on a platter; let sit in the refrigerator about half an hour. Serve cold.
https://www.pecorinotoscanodop.it/wp-content/uploads/ricettari/maidiremai/WEB_Mai-dire-mai_Giulia-Robert_1400x875px.jpg
875
1400
giango_admin
https://www.pecorinotoscanodop.it/wp-content/uploads/2016/03/LogoPT_Dop-300x300_bordo.png
giango_admin
2016-08-01 14:36:21
2019-06-30 20:41:33
Chocolate puffs with double Pecorino Toscano PDO cream